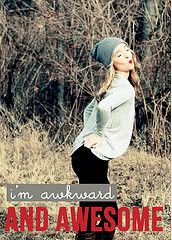 Here are this week's awkward and awesome moments:
Awkward and Awesome: Ingrid's dance moves.
Awkward
- To save a few bucks, I treated myself to a facial at the Aveda school. Do you know what's not relaxing? Laying on a spa table half-naked with 10 other people in the same room.
- Running so hard that my face is red from the effort - three hours later. Also awkward - having to assure the grocery store clerk that I am indeed, seriously OK.
-
Living room yoga with a giggling Ingrid
. This is also awesome.
- Cooking in the dark. Ingrid's room is off of the kitchen, so, at times, we're forced to quietly cook in the kitchen as Ingrid babbles herself to sleep.
Awesome
- Ingrid learning how to clap her hands.
- Winning a new TV from a random Glamour magazine contest! I know, I know - who wins these things? I'm still skeptical, because it has yet to arrive - but I'm hopeful that this isn't a hoax and I will no longer be able to say "I never win anything." Bah-bye enormous 1990-cube-TV!
-
Brunch at Blue's Egg with Ingrid and friends.
Bloody Marys, crab cakes, pankcakes for Ingrid and discussing
It's a Brad Brad World
. My kind of Saturday morning.
- Reading the third book of the Harry Potter series. This is also awkward.
Let's here it - share your awkward and awesome moments.